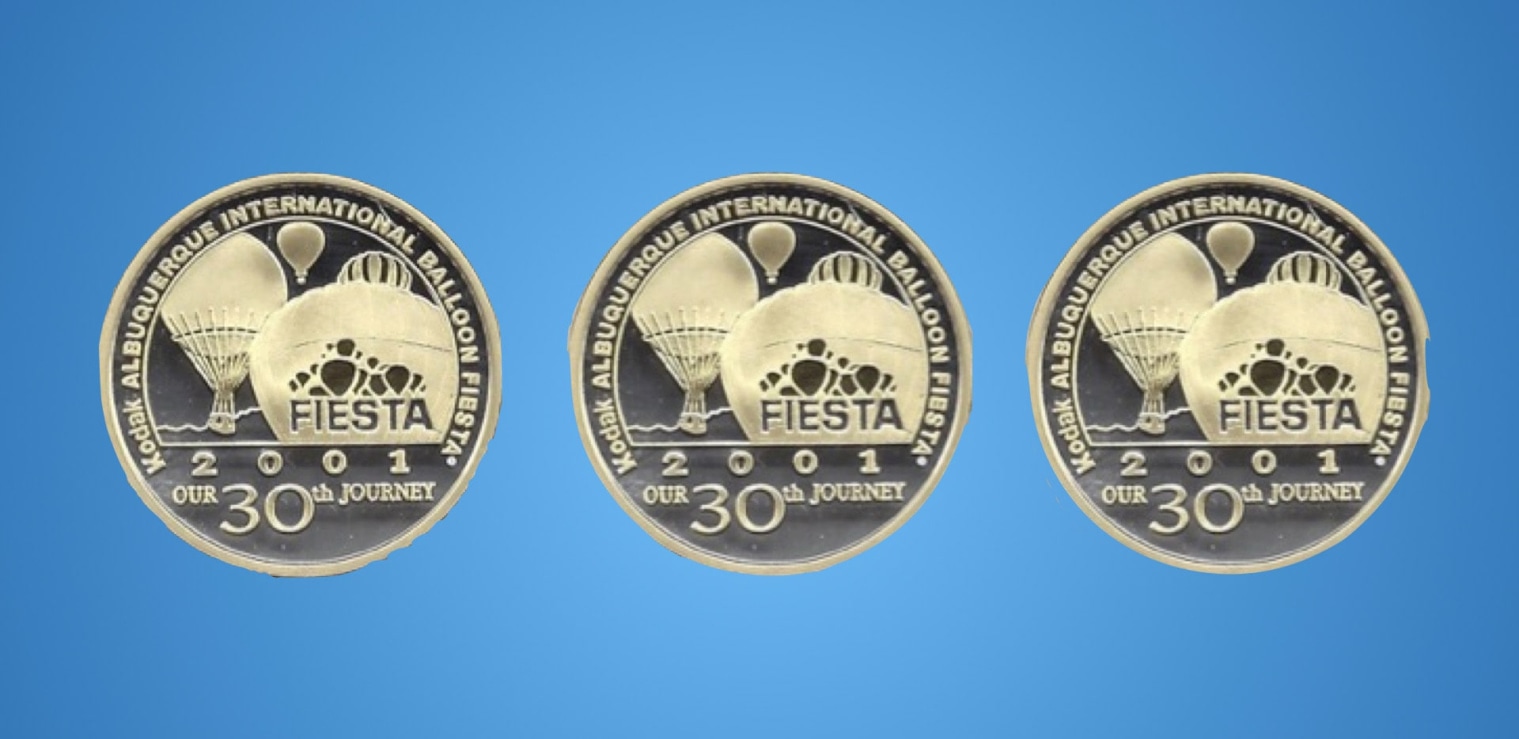 Balloon Fiesta Coins
For a few years, 1981- 2005, Balloon Fiesta minted collectable coins. Collector

Gary Henderson

has been keeping the history of these and has offered us these details on the beautiful coins. Like other items on the Collector's Corner, these items are not available for sale via Balloon Fiesta. They are presented here for information, education, enjoyment and as a reference to actual collectors. Click on the images to see the images in larger format.
Thanks Gary!
HISTORY OF GOLD AND SILVER ALBUQUERQUE BALLOON FIESTA COINS
1981 - First Silver Coin - for 10th Anniversary
1983 - Maxie L. Anderson Memorial Coin
1988 - First Silver Coin of Modern Set
1989 - First Balloon Glow Coin with 24 Karat Gold Overlay
1992 - First Special Shapes Rodeo Coin with 24 Karat Gold Overlay
1994 - First Artist's Proof Set - Numbered on Edge
1996 - First Gold Coin - 1⁄4 oz Gold - 25th Anniversary
1997 - Last Coins Made by the International Mint, LTD.&nbsp
1997 - First Coins Made by Albuquerque Coins
1997 - First America's Challenge (Gas Balloon Race) Coin Made
1997 - First Enameled Coin Made - Special Shapes Rodeo
1998 - First Dawn Patrol Coin
1999 - First Gordon Bennett Coin
1999 - First "Pilot" Gas Balloon Race Coin
2001 - First Pilot Commemorative Coin Set - Only 25 Sets Made - Obverse
Reverse of These Are Different From Regular Issues - Numbered
On Edge
2005 - Last Issues of Albuquerque Coin's Coins
Document produced and provided by Gary Henderson.