America's Challenge Teams Preparing for 6 PM Launch
October 2, 2021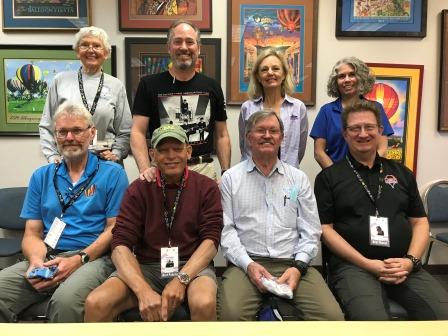 In the photo: Barbara Fricke and Peter Cuneo (Team 1), Noah Forden and Bert Padelt (Team 4), Cheri White and Mark Sullivan (Team 2) and Brenda Cowlishaw and Brian Duncan (Team 3)
Posted Saturday, October 2 1:00 PM MDT (1900Z)
The four elite American gas balloon teams competing in the 24th America's Challenge for gas balloons have waited for two long years for the chance to test their skills and knowledge in a race across North America – and later today, they'll get their chance. At today's noon briefing, race officials gave them the go-ahead to prepare their balloons for an anticipated launch at 6 PM (0000Z) this evening from Albuquerque's Balloon Fiesta Park. Live streaming of the launch preparations will begin at 4 PM, with Balloon Fiesta Live!'s live programming beginning at 5 PM as the Fastrax skydiving team brings in the American flag.
During the America's Challenge, the two-person pilot teams use the winds and weather to try to fly the greatest distance. They stay aloft for as much as three days, and must carry with them everything they need to fly and navigate the balloon and survive aloft. The balloon is filled with hydrogen gas, and once the balloon leaves the ground, they can't get any more. In order to ascend, the teams must lighten the balloon by dropping expendable weight, referred to as ballast, usually sand or water. By conserving ballast and avoiding having to release gas to descend, teams can prolong their flight and improve their chance to win.
At today's weather briefing, meteorologist Randy Lefevre described weather conditions and potential flight trajectories. During the period of the race, light winds should prevail at lower elevations, with low-level tracks that could actually keep the balloons in New Mexico. Teams that choose higher altitudes may travel more to the south and southeast into Texas and the U.S. southern states. The teams must stay in the United States, as Mexico and Canada are both closed to competition this year.
This year's race will be an all-American affair, with a small but highly-competitive field. Four-time winners Barbara Fricke and Peter Cuneo (Team 1 in the tracking) and two-time winners Mark Sullivan and Cheri White (Team 2). Brenda Cowlishaw and Brian Duncan (Team 3), who flew to a solid fourth-place finish in their first America's Challenge two years ago, and veterans Noah Forden and Bert Padelt (Team 4) are also strong competitors in what may be an evenly-matched field.
The launch should be a highlight of a spectacular evening at Balloon Fiesta Park which will combine the launch of the America's Challenge with performances by Team FasTrax skydivers, the Twilight Twinkle Balloon Glow, the AfterGlow Fireworks show, and musical entertainment. For those unable to be in Albuquerque, Balloon Fiesta Live! will offer a real-time video stream of the launch; simply go to the Balloon Fiesta Live! page at https://balloonfiesta.com/Live-Stream.
Once the race begins, you can follow the race via YB Tracking's live tracking map on the America's Challenge web page at www.balloonfiesta.com/Americas-Challenge, or download the YB tracking app (it's free! In your favorite app store) onto your mobile device. Once you download the app, subscribe to the America's Challenge 2021 race (also free). We will also provide regular updates on the race's progress through the website, Twitter, links to team social media sites, and our Balloon Fiesta Live! broadcasts.