Big Crowd Cheers America's Challenge Launch
October 2, 2021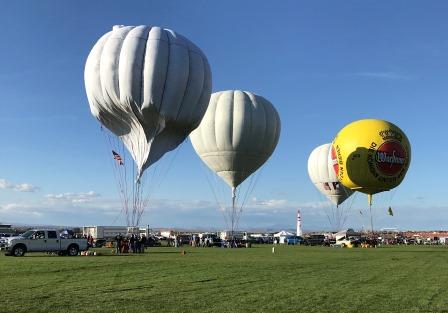 Posted Saturday, October 2 9:00 PM MDT (0300Z Sunday, October 3)
And . . . they're off! Flanked by hundreds of inflated hot air balloons participating in an evening glow an all-American field of competitors soared aloft this evening to begin the 24th America's Challenge distance race for gas balloons.
Just after 6:30 PM this evening, the first balloon in the launch order, piloted by Noah Forden and Bert Padelt, was walked to the launch platform at Balloon Fiesta Park, the common takeoff point for all balloons so they launch from exactly the same spot. Each balloon's inflation crew escorts their team's balloon to the platform, wishing their pilots well in the last moments before takeoff. It's an often emotional moment, with the excitement of finally being ready to fly accompanied by goodbyes and good wishes. On the platform, race officials work with each team to ascertain the balloon's buoyancy, taking off some sandbags to make the balloon lighter so it can ascend at a safe rate of speed and clear nearby obstacles.
The Balloon Fiesta Live! team provided commentary about gas ballooning and the teams, and was able to catch and share with viewers some of the conversations between the officials and pilots during the weigh-off process. This coverage is available for viewing on the Balloon Fiesta's YouTube channel.
As part of their strategy, Forden and Padelt took off with a slightly flaccid balloon, anticipating a flight to altitude to catch faster winds headed south and east from Balloon Fiesta Park. Other teams adopted different strategies, borne out in the two distinctly different tracks the balloons have taken since launch. Some of our early issues with altitude and distance reporting appear to have been corrected, but Americans should note that distances and altitude are reporting in kilometers and meters rather than miles and feet. The Command Center is working with YB Tracking to resolve these issues and we hope to have it fixed over the next few hours.
You can keep track of your favorite teams and try to second-guess their strategies through the live YB Tracking map on the America's Challenge web page at www.balloonfiesta.com/Americas-Challenge, or download the YB tracking app (it's free! In your favorite app store) onto your mobile device. Once you download the app, subscribe to the America's Challenge 2021 race (also free). We will also provide regular updates on the race's progress through the website, links to team social media sites (we'll post them in the morning), and our Balloon Fiesta Live! broadcasts.