It's Official! Forden/Padelt Are America's Challenge Champions
October 7, 2021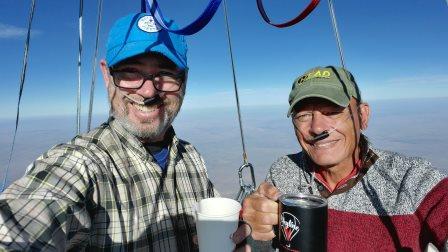 Posted Thursday, October 7, 2021, 10 PM MDT (0400Z Friday, October 8)
The data is parsed, the tracks are analyzed, the numbers are crunched, and while there were a few little tweaks, the result is the same. Rhode Island's Noah Forden and Pennsylvania's Bert Padelt are the 24th America's Challenge champions.
Forden and Padelt (Team 4) were the race leaders almost throughout, pursuing a strategically risky strategy of going to higher altitudes early to catch faster winds.
This is the first America's Challenge win for both members of this team. Bert Padelt, with his flying partner at the time, Louis Vitanza, finished second in the 2002 America's Challenge. Noah Forden is relatively new to competition gas ballooning -- he flew his first America's Challenge in 2016. But he already has one America's Challenge trophy; he and Bert Padelt finished third that year.
The final results (you can view the official scoring sheet, including launch/landing coordinates, here):
Team 4, Noah Forden and Bert Padelt, distance 356.2 mi. (573.25 km), duration 36 hours 22 minutes, landing at Big Spring, TX
Team 1, Barbara Fricke and Peter Cuneo, distance 338.43 mi. (544.66 km), duration 40 hours 25 minutes, landing near Miami, TX
Team 2, Mark Sullivan and Cheri White, distance 173.96 mi. (279.97 km), duration 23 hours 46 minutes, landing alongside the historic Goodnight-Loving Trail on the Melrose bombing range, Cannon AFB, NM (west of Clovis NM)
Team 3, Brenda Cowlishaw and Brian Duncan, distance 55.92 mi. (89.99 km), duration 14 hours 46 minutes, landing near Glorieta, NM
This was a tough race for tough men and women. Forden and Padelt's winning distance was the shortest in the 24-year history of the America's Challenge. Exceptionally light winds over New Mexico and Texas meant the teams had to work hard to find a way to get anywhere at all. This often meant flying in bitter cold (11 bone-chilling degrees Fahrenheit in both Team 4's and Team 2's baskets), on oxygen, in near total darkness. This made for a highly tactical competition reminiscent of European gas ballooning competitions, where international borders and smaller land masses limit how far teams can fly.
Unusually, this was also an all-American race with a smaller-than-usual number of competitors. Three teams from Europe or including European members who had hoped to compete had to drop out of the race due to COVID restrictions and issues with international travel and shipping.