Race Leaders Land in Texas; The Chase is On!
October 4, 2021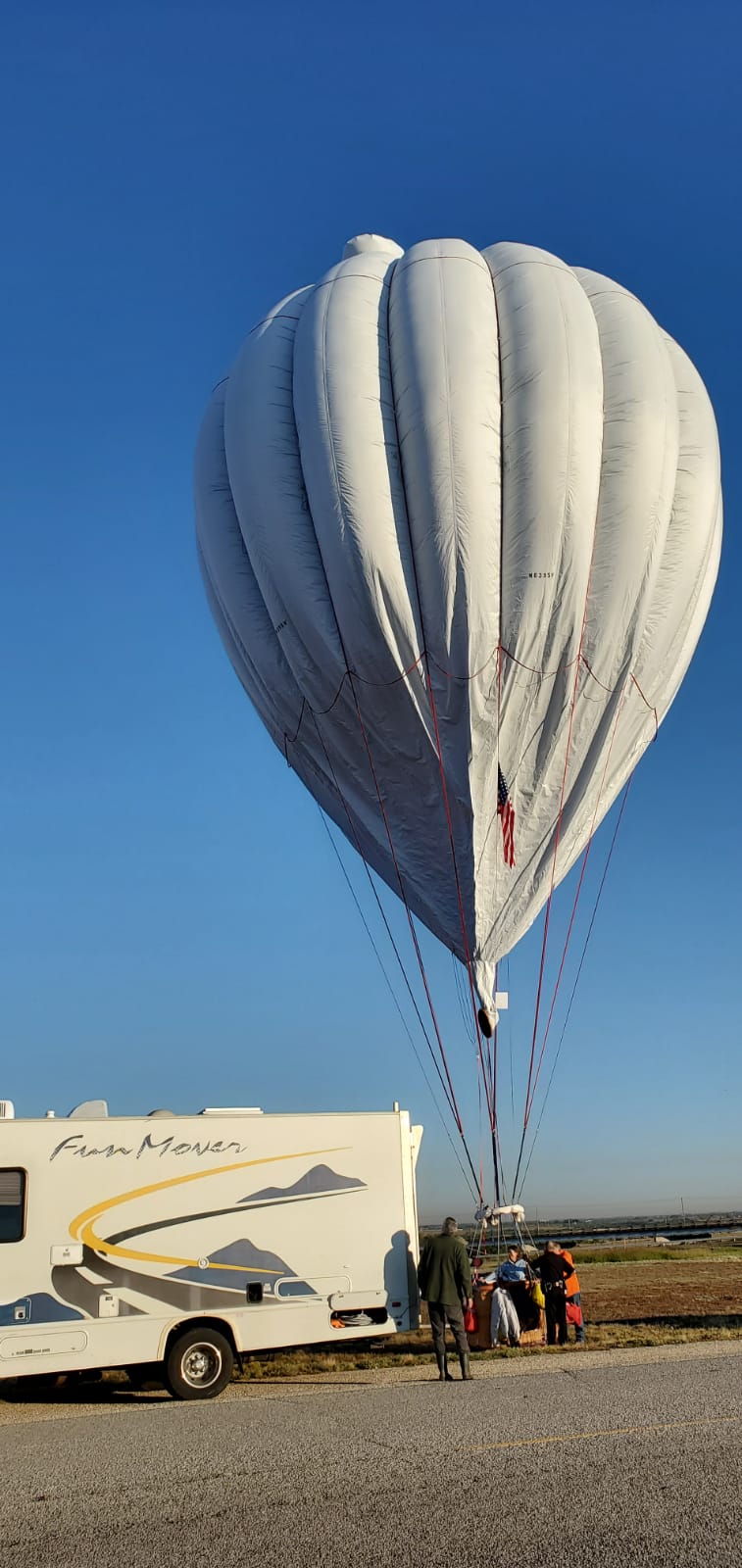 Posted Monday, October 4, 0830 AM MDT (1430Z)
The America's Challenge Command Center has received word that Team 4, Noah Forden and Bert Padelt, have landed safely at the airport in Big Spring, TX. The team sent this photo from their stand-up landing; you'll notice how flaccid (limp-looking) the balloon is, since balloons lose hydrogen throughout the flight. Noah and Bert's strategy from the beginning was to go to high altitude early, grab the lead, and ride relatively higher winds to the east and south. They've led throughout the race by a substantial margin and traveled about 356 miles (573 km). That's a short distance for an America's Challenge, but a great showing considering the extremely light winds dominating the weather pattern. Noah Forden, the experienced aviator from Rhode Island, and Bert Padelt, the master balloon builder who is revered in gas balloon circles, threw down a spectacular flight and said to their competitors, come try to catch us.
And somebody is.
Lurking well behind, but creeping up on the leaders, are Barbara Fricke and Peter Cuneo (Team 1) from Albuquerque, the four-time America's Challenge winners who spent more than a full day wallowing in light winds in northern New Mexico. This photo was taken by their crew east of Amarillo, TX – you can just see Team 1's balloon, Foxtrot Charlie, as a little white dot near the top of the image. Barbara and Peter ascended into the stronger, easterly track yesterday evening, and overnight overtook Team 2 (Mark Sullivan and Cheri White, who had landed) to move into second in the race. If Barbara and Peter have the ballast and gas to fly another 50 miles, they'll capture the lead using a time-honored gas ballooning strategy – hang back in last place until the competition lands, then swoop in at the end to win.
Regardless of who winds up winning, this could be a great result for either team. It would be Noah Forden's and Bert Padelt's first win, and even if they finish second, it will be Noah's best finish and will equal Bert's best America's Challenge result (second, in 2002). Should Barbara and Peter overtake Noah and Bert for the victory, they would tie the late Richard Abruzzo for the most America's Challenge wins ever. Since Richard won his races with four different co-pilots, they would also be the first team to, as a team, win five America's Challenge races.
How will it all come out? Stay tuned! Follow along on the America's Challenge web page at www.balloonfiesta.com/Americas-Challenge, or download the YB tracking app (it's free! In your favorite app store) onto your mobile device. Once you download the app, subscribe to the America's Challenge 2021 race (also free).