Some Views from the Teams
October 4, 2021
Posted Monday, October 4, 0830 AM MDT (1430Z)
While we wait to see whether Team 4 will prevail or Team 1 will slip into the America's Challenge lead, we just couldn't resist sharing this spectacular photo Noah Forden sent to the Command Center. This is sunrise at Big Spring, TX, and was taken shortly before Noah and Bert Padelt landed at the airport, on a spot near the lower left in this photo.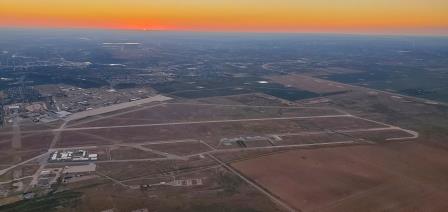 In a phone call to the Command Center, Team 1 pilot Peter Cuneo also commented on how beautiful the sunrise was, and Barbara and Peter's crew sent a photo they took from the ground.
The teams often post photos and videos of their own to their social media sites. Here are the URL's of three of them:
Cheri White and Mark Sullivan (Team 2): FlyGas.net, and FlyGas – Cheri Edwards White on Facebook
Brenda Cowlishaw and Brian Duncan (Team 3): Brenda Dahly Colishaw on Facebook, blc20 on Instagram
Noah Forden and Bert Padelt (Team 4): bestaviation.com, Noah Forden/Bert Padelt on Facebook
We also thought you might find it interesting to see a trajectory plot and analysis race meteorologist Randy Lefevre put together the afternoon before the race. This is an example of the type of data the pilots receive, both from the official race meteorologists and their own weather specialists, when planning a flight. You'll notice a similarty between the forecast trajectories and what actually wound up happening during the race, especially with the two potential tracks and strategies adopted by different teams. Since balloons don't stay at the same altitude all the time, the track will vary somewhat, and you see that especially with Team 1's track as the balloon ascended and descended through middle and high altitudes.
Meanwhile, Team 1 (Fricke/Cuneo) continues to close in on Team 4's leading distance of approximately 356 mi (573 km), and we'll see if they're able to surpass Forden and Padelt for the win. Follow along on the America's Challenge web page at www.balloonfiesta.com/Americas-Challenge, or download the YB tracking app (it's free! In your favorite app store) onto your mobile device. Once you download the app, subscribe to the America's Challenge 2021 race (also free).