America's Challenge Gas Race Postponed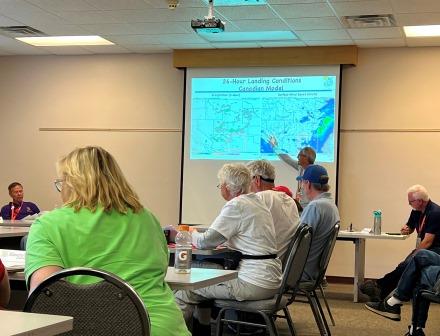 10/01/2022 2:30 PM MDT / 2030 UTC
The launch of the 25th America's Challenge Gas Balloon Race, originally scheduled for the evenint of October 1, is being postponed due to weather concerns. The eigh competing teams got the word from Event Director Sam Parks at the noon (1800 UTC) briefing on Saturday.
All other Saturday evening events, including the Twilight Twinkle balloon glow, the Fastrax team jumps, and the spectacular aerial drone show (an all-new Balloon Fiesta event1) are still continuing as scheduled.
Meteorologist Randy Lefevre provided a detailed analysis of weather conditions that prompted the decision to delay the America's Challenge. There are concenrs about monsoonal moisture and convective activity in northern New Mexico and southern Colorado that could cause thunderstorm and strong outflow wind guests affecting early stages of flight. High winds that could affect landings are also forecast downrange in the direction the balloons would reach in the first 24-36 hours of the race. The winds aloft are expected to shift further east over the coming days, away from the Rocky Mountain chain and into more stable flying and landing conditions.
Sam_Parks_on_postponment_100122-0001.mp4
Weather postponements in the interest of safety are not unusual in the America's Challenge.. There are potential windows of opportunity in the coming days that could provide improved conditions for a safer race. The launch window allows for a launch as late as Wednesday evening, October 5.
Race officials plan to brief the pilots tomorrow to look at conditions for a safer launch. The briefing is scheduled to start at noon, but could be delayed until later in the day if conditions warrant.
Use this back button to return to the full list. If you want to preserve your filtered list, use your browser's back button and resubmit the form.