Final America's Challenge Results Released as Competitors Celebrate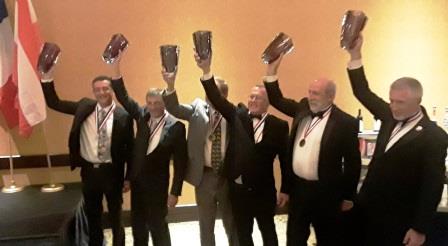 Posted 10:30 PM MDT (0430z)
The results of the 23rd America's Challenge race for gas balloons are now final and confirm what everyone already knew: Andy Cayton of the US and Krzysztof Zapart of Poland (Team 1) have triumphed.
View the official results here!
Cayton and Zapart flew 1614 miles (2598.61 km), landing in a remote area in northern Ontario province in Canada. It's traditional in reporting the results to list the city or town closest to the landing site. At tonight's awards ceremony (prize-giving, to Europeans), the room erupted in laughter when the MC said, "And they landed near . . . nowhere?" In the official results the closest town is listed as Attawapiskat, Ontario, a good 130 miles (209.2km) to the east of their landing site.
Cayton and Zapart were there to receive their medals and trophies, as were the second and third place teams, both hailing from France: Eric Decellieres and Vincent Leys (Team 2) and Benoit Pelard and Benoit Peterle (Team 7). All three of the top teams landed in Ontario.
This was Krzysztof Zapart's first America's Challenge win, though he has finished second three times. Andy Cayton has now won the race three times, all with different co-pilots. He becomes only the fourth person to win The America's Challenge three or more times: the others are the late Richard Abruzzo, who won the race five times, and the team of Barbara Fricke and Peter Cuneo, who have won four times.
The next America's Challenge race will be held in October of 2020. The America's Challenge is part of the Albuquerque International Balloon Fiesta, the world's biggest ballooning event.
Use this back button to return to the full list. If you want to preserve your filtered list, use your browser's back button and resubmit the form.