Inside the Basket - Liz Spielman, Event Coordinator
Liz Spielman (pictured on the left) is one of many employees who works year-round at Balloon Fiesta to make the event such a success. Starting as the Event Assistant in 2017, she has recently moved into the position of Event Coordinator. Read more about Liz's Balloon Fiesta story in this month's Inside the Basket.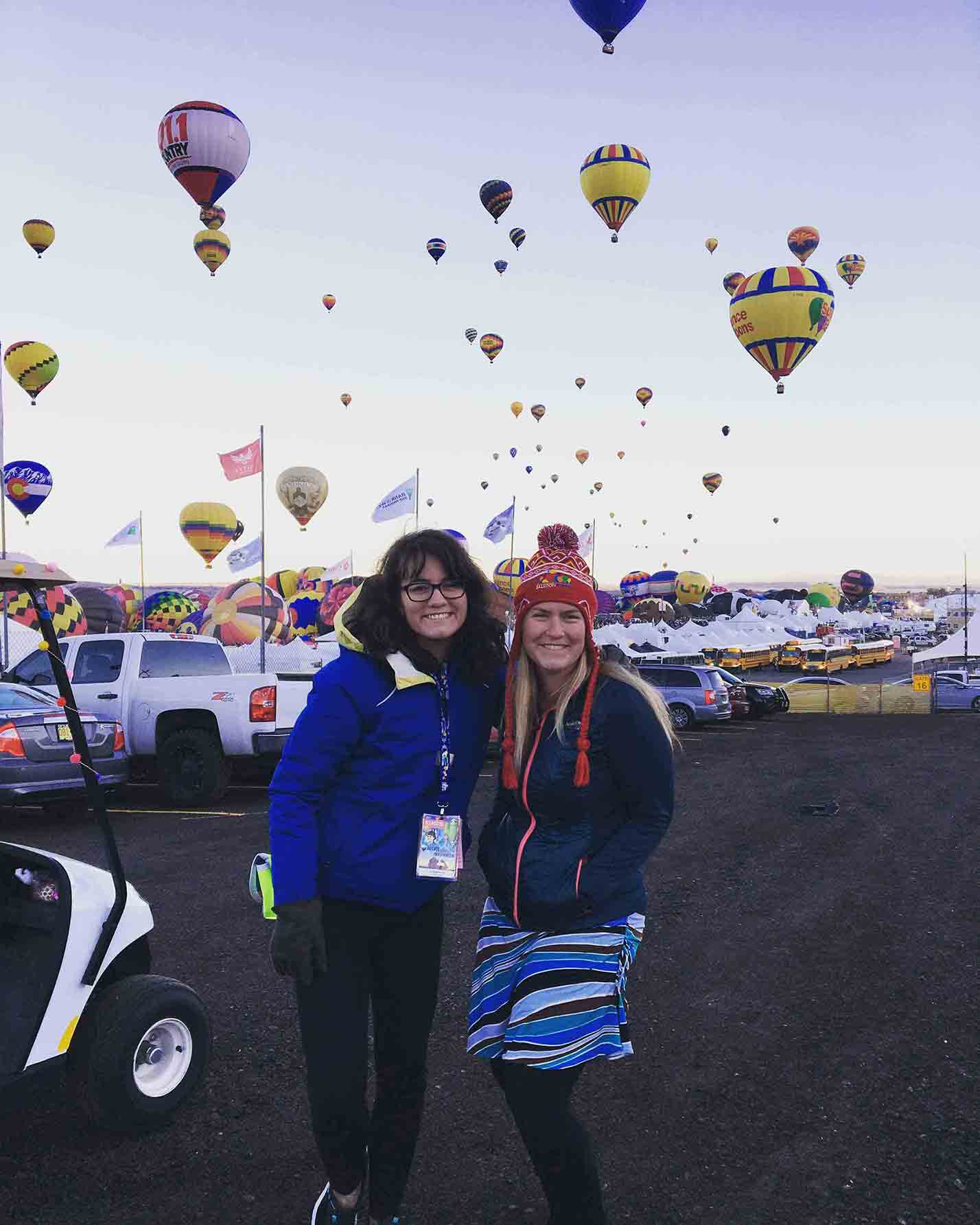 1. What is your position at Balloon Fiesta and how long have you worked there?
I first started in May of 2017 as the Event Assistant and I worked closely with my then manager, Sandy, on multiple areas and tasks. When she left in December, I took over some of those areas in my new role as the Event Coordinator.
2. What is your favorite part of your job and what is the hardest?
There are so many aspects of my job that I really enjoy, but I especially like that I am able to be creative. I like planning the parties and thinking of fun ideas for them.
I also like all the wonderful people I get to meet and work with during Balloon Fiesta. It's really fun to meet and talk to guests during the event. Everyone is generally really excited and happy to be there. Some come from around the world! It's really amazing.
I think the hardest part is if a session is cancelled or delayed. It's always disappointing to see guests unhappy, but it's for the safety of pilots and everyone who might be flying with those pilots.
3. What are you looking forward to most at this year's 47th event?
I'm looking forward to seeing the new special shapes, they're all so neat.
4. What advice do you have for Balloon Fiesta guests visiting for the first time?
I generally have two pieces of advice I give:
The first is to dress warmly and in layers, especially for the morning sessions. As a native Minnesotan, I didn't believe anyone who told me it would be cold, so I didn't bring my coat with me for the first morning session this year. Big mistake!
My second piece of advice is to plan on coming to multiple sessions, in case there is bad weather and a session is cancelled. And make sure to go to at least one morning and evening session.
5. Do you have a favorite balloon?
Oooh! Yes. I love the pink and red hearts balloon called Hearts A'Fire. I actually have a mini replica of it in my office that my sister got for me during Balloon Fiesta.
Also any and all cat balloons, especially Cutie Dink! Their chase truck meows when it drives!
Use this back button to return to the full list. If you want to preserve your filtered list, use your browser's back button and resubmit the form.