No Start for 25th America's Challenge
Wednesday, October 5, 2022 12:30 MDT (1830 UTC)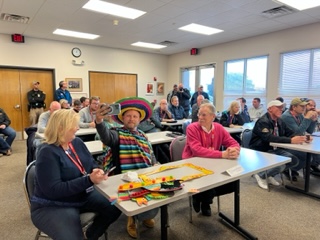 Days of persistent rain, instability, and shifting weather patterns mean the 2022 America's Challenge distance race for gas balloons will not start this year.
At Wednesday's weather briefing – a quick one, since the weather pattern hasn't significantly changed in the past couple of days -- meteorologist Randy Lefevre told the teams that there was no hope the weather would improve enough to allow for a safe launch before the race window closes at midnight. A low pressure system spinning almost directly over Albuquerque will continue to bring rain into the area. While delays related to weather are not unusual for America's Challenge races, this year's weather pattern has been especially stubborn and persistent. Command Center director Ruth Lind dubbed the race the "America's Weather Challenge."
Balloonists are used to not being able to fly due to bad weather, but are always disappointed when this happens. Event Director Sam Parks especially acknowledged the sadness felt by European competitors who had traveled so far to participate.
There was a lot of laughter during the briefing, and fond farewells afterward, as competitors and race officials thanked those who had worked so hard to plan and coordinate the race.
Weather cancellations of the America's Challenge are rare, but not unprecedented. The race also did not start in 2015 due to persistent bad weather, and in 2009 the race was called off after the balloons were inflated as high winds moved in and the balloons could not be launched safely.
Use this back button to return to the full list. If you want to preserve your filtered list, use your browser's back button and resubmit the form.