USA Poland Team 1

Pilot: John "Andy" Cayton Balloon: Misia Co-Pilot: Krzysztof Zapart

In the last America's Challenge in 2017, Krzysztof and Andy were one of the two teams to beat the 20-+-year-old America's Challenge record. They flew nearly 2,200 miles (3526 km) and were only 90 miles short of wining the race before they ran out of real estate and resources.
Krzysztof Zapart has an impressive international record in gas balloon distance races. He's finished second in every America's Challenge race he's competed in, and has three top five Gordon Bennett finishes. He says the fascination of gas ballooning is "freedom, friendship, and free flights," and credits Buzz Wills, a pilot from Amarillo, TX, for "starting his balloon dream."
In 2018, Andy Cayton and his co-pilot Bill Smith came very close to winning the Gordon Bennett and with it the world championships, with a nail-biter of a flight that included a water transit over the Mediterranean Sea. He's known as a determined, gutsy competitor whose achievements transcend ballooning. Andy has a distinguished record in military aviation, earning the Bronze Star, Meritorious Service Medal (x2), Air Medal with Valor, Air Medal, Army Accommodation Medal (x2), Army Achievement Medal (x2), Senior Aviator Badge, Parachutist Badge, Air Assault Badge, and Boeing Defense and Space Rescue Citation (x2). During a world record gas flight attempt, he had to avoid Area 51, the top-secret military testing installation in Nevada that some say harbors aliens. Air Traffic Control warned him he would be shot down if he didn't keep the proper clearance. That'll get your attention.
France Team 2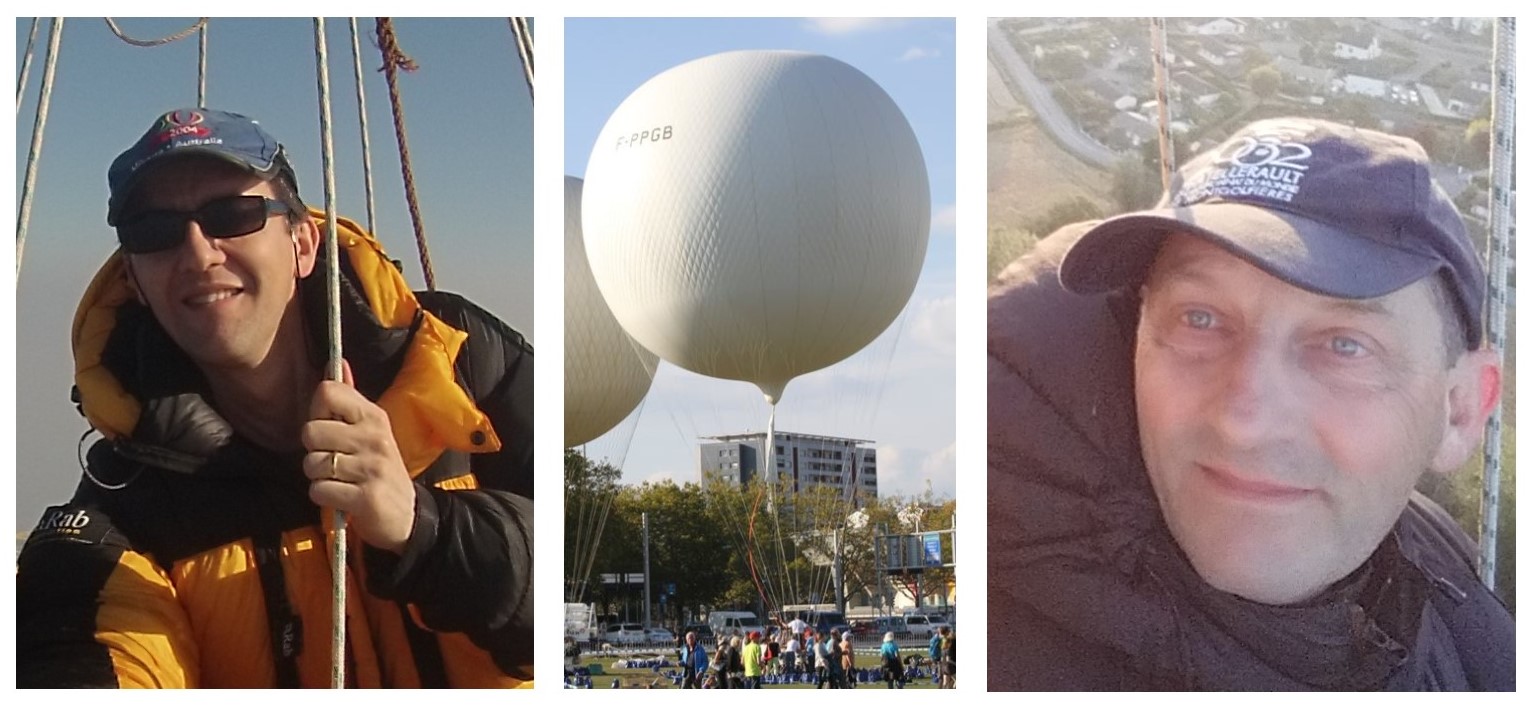 Pilot: Eric Decellieres Balloon: Le Grain De Folie Co-Pilot: Vincent Leys
This team is competing for the first time in the America's Challenge, but if the handicappers were setting odds, this formidable French duo might well be considered to be favorites. As the nine-time winner of the Coupe Aéronautique Gordon Bennett, co-pilot Vincent Leys is the most decorated pilot in the history of distance gas balloon competition. The Gordon Bennett, founded by American newspaper tycoon James Gordon Bennett in 1906, is the world's oldest air race and is today considered to be the world championship competition for distance gas ballooning. Eric Decellieres is relatively new to gas ballooning competition but has competed in four Gordon Bennetts and has finished in the top five.
Eric says the fascination of gas ballooning is "being in 'levitation' and taking time to contemplate the beauty of nature. He has flown all over the world and especially remembers flying a hot air balloon solo over the Sahara Desert in south Tunisia. His three young daughters have all flown in gas balloons.
Vincent writes that the fascination of gas ballooning to him is "Liberty!" and calls his experiences in the Gordon Bennett the "best expression in balloon flying.
Benoit Pelard told us in 2017, after the America's Challenge, that he hoped his good friend, the great champion Vincent Leys, would come to Albuquerque to compete in the America's Challenge. We are pleased he decided to do so.
USA Team 3

Pilot: Brian Duncan Balloon: Intrepid Co-Pilot: Brenda Cowlishaw
Brian Duncan and Brenda Cowlishaw are newcomers to gas ballooning, competing in their first gas balloon competition. They acquired their balloon system from longtime America's Challenge competitor Phil Bryant, who has now retired from gas balloon competition, so the balloon may be familiar to longtime race-watchers. It has been flown both in several America's Challenges and in the Gordon Bennett. They have flown from Balloon Fiesta Park before: they came here in 2018 and did a training flight with Albuquerque gas balloon veteran Peter Cuneo.
USA Team 4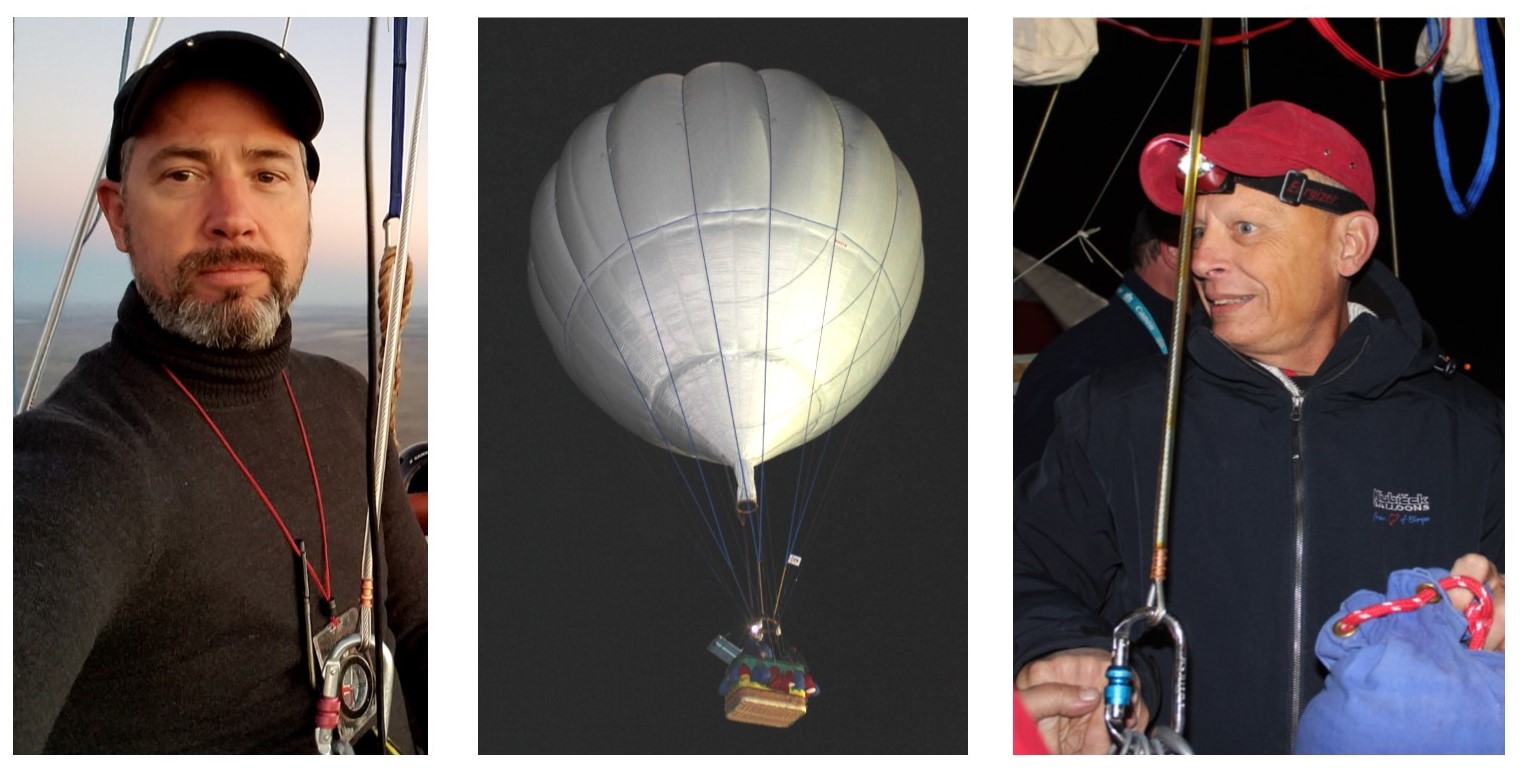 Pilot: Noah Forden Balloon: Across The Universe Co-Pilot: Bert Padelt
Bert Padelt is one of the world's major manufacturers of gas balloons and is responsible for building many of the balloons that have competed over the years in the America's Challenge. Most recently, Bert has been instrumental in the development of American-built hydrogen balloon systems; there is growing interest in Padelt systems among European pilots who have seen American teams fly them in the Gordon Bennett. In addition to 1,000 meter competition balloons, Padelt builds a smaller hydrogen system designed for shorter-distance flights. The first of these small, relatively economical systems is owned and operated by the North Carolina chapter of the Aero Club of America (it made a brief demonstration flight here in Albuquerque during the 2014 America's Challenge). Many see this as the future of gas ballooning in the U.S. and a means to involve more people in the sport.
Noah has a distinguished record in both balloons and airplanes, but is relatively new to gas ballooning. He got his gas balloon rating in February 2016 through the Aero Club of America's program, and later that year flew in his first America's Challenge with Bert Padelt as a last-minute replacement. He so enjoyed the experience that he bought a larger gas balloon and is well on his way to being a leader in the gas ballooning community.
USA Team 5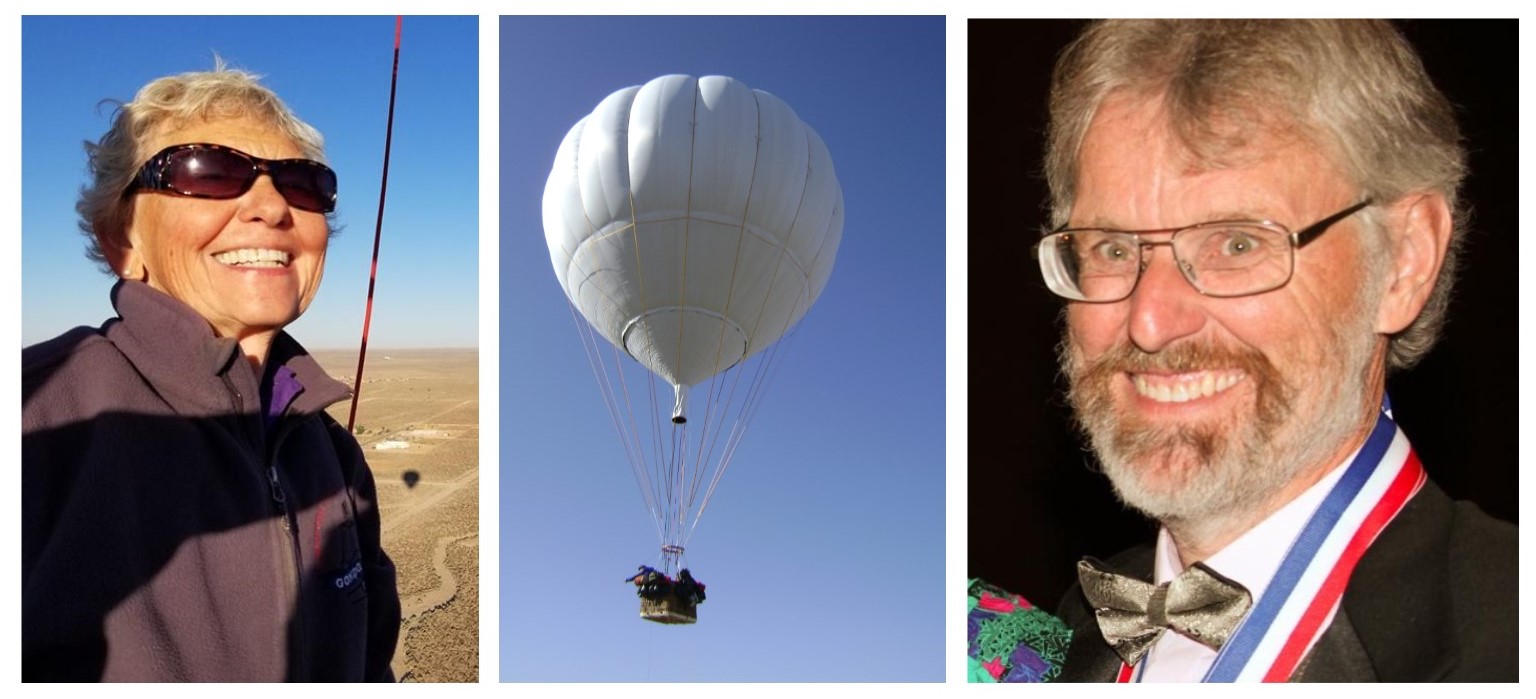 Pilot: Barbara Fricke Balloon: Foxtrot Charlie Co-Pilot: Peter Cuneo
Barbara Fricke and Peter Cuneo are the only team to achieve four America's Challenge wins as a team (the late Richard Abruzzo had five wins, but with four different co-pilots). They've also been runners-up four times (2003, 2005, 2007, 2011). They have flown balloons in Austria, Belgium, Canada, Finland, France, Germany, Italy, Mexico, and Switzerland, and throughout the United States. They have a growing reputation as balloon builders, having built the gondola of their gas balloon and three hot air balloon envelopes; their latest balloon is a small two-person "hopper" which can be flown with a chair or a regular basket.
Peter assisted fellow America's Challenge competitor Bert Padelt in developing an American-built hydrogen balloon system; several of these "Padelt" balloons are flying in this race. He was one of the technical advisors – along with John Kugler and Mark Sullivan – on the Two Eagles transpacific balloon flight and also was slated to be Troy's co-pilot on an earlier transpacific mission, Celestial Eagle, which was unable to launch due to weather conditions.
Peter and Barbara have some unusual ballooning experiences. In 2001, they participated in an experimental migration study by carrying ten squawking geese in their gas balloon, which Peter says has to be some kind of record for the number of geese flown in a balloon. The study was featured on ABC's "20/20." In November 2002, Peter flew on a smoke balloon flight that was a re-enactment of a 1975 flight over the Nazca Lines in Peru (Barbara also participated in the flight, but on the ground.)
Barbara, who flies airplanes as well as balloons, writes: "I love flying gas balloons when I can stay up in the sky for days."
USA Team 6
Pilot: Al Nels Balloon: Charlie Bravo Co-Pilot: Andy Baird
This is one of several teams whose "rookie" status in the race belies their experience. Al Nels and Andy Baird are among the most respected balloonists in the United States and are world-class competitors in hot air balloons.
Al Nels started building model hot air balloons as a child and by 1974 was flying the real thing. He's now been flying balloons for more than 45 years and – a quarter-century removed from his national and world championship victories – is still an active competitive pilot.
Andy Baird is the current U.S. delegate to the FAI Ballooning Commission. As a balloon manufacturer and FAA engineering representative, he is a recognized expert not just in manufacturing but in balloon safety. Andy's company has been involved in developing such innovations as a rapid-deflation system for parachute-top balloons. To test it, he fully deployed it at altitude to demonstrate to the FAA that if it were accidentally deployed it could be reset in the air so the balloon could continue flying. Gutsy or crazy? You decide.
France Team 7
Pilot: Benoit Pelard Balloon: Marie Marvingt Co-Pilot: Benoit Peterle
In 2016, Benôit Pelard and his co-pilot Laurent Lajoye captured everyone's imagination by flying a route seldom taken in the America's Challenge, to Arizona. They hoped to fly over the Grand Canyon, and while they didn't get quite that far, had a great view of the Painted Desert and were warmly welcomed by members of the Navajo (Diné) nation when they landed on the reservation. In 2017 the team flew across the Midwest and enjoyed a great view of the Indianapolis Motor Speedway before landing east of Indianapolis. Benoit Pelard has been to Albuquerque and the Balloon Fiesta several times, beginning in 1989. He crewed for the French entry in the 2008 Gordon Bennett.
Benôit writes that the fascination of gas ballooning is "flying in silence, being suspended in midair underneath our small bubble of gas. Time seems to stop." He got hooked on ballooning in 1986, when the competitors in the French national hot air balloon championships stayed in his hotel.
Benôit Péterlé has competed internationally for several years, and while he's flown most of his races with Benôit Pelard, he had his best result in 2013 when the two Benôit's competed separately. He got his start in gas ballooning at the 2004 Gordon Bennett, held in his home town. During that race he crewed for Albuquerque's Richard Abruzzo and Carol Rymer Davis, who won the race that year, and still fondly remembers his encounters with Richard in 2004 and at the 2010 Gordon Bennett. Benôit enjoys "Flying with no worries about time, taking time for himself, watching earth from the sky."
Benoit and Benoit built their balloon, Marie Marvingt, themselves. They have flown it in nine Gordon Bennett races, and tis year's America's Challenge will be its fourth flight in the United States.
Austria Team 8
Pilot: Christian Wagner Balloon: Skyline GMBH Co-Pilot: Thomas Lewetz
Thomas Lewetz, with his longtime flying partner Silvia Wagner, competed in the very first America's Challenge in 1995. He's returning to Albuquerque for the first time in nearly 25 years, and we're delighted to welcome him back. As is the case for so many balloonists, he says flying in long-distance gas balloon races is an escape from the office – from normal life.
Christian Wagner comes from a ballooning, flying, and skydiving family, and says the fascination of ballooning to him is the peacefulness. Of participating in the Gordon Bennett, he wrote that it means to him, "spending some special time with his father."
USA Team 9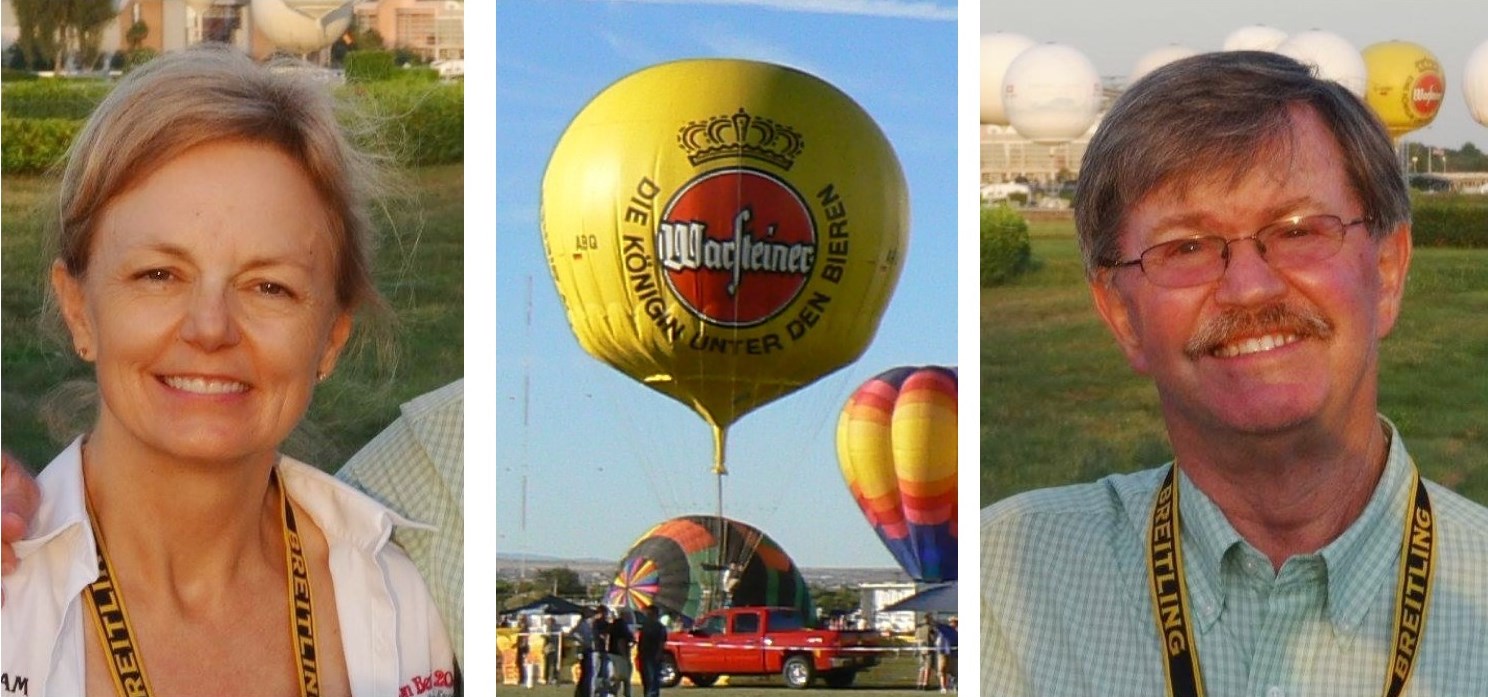 Pilot: Cheri White Balloon: Warsteiner Co-Pilot: Mark Sullivan
Cheri White comes from a three-generation ballooning family; her proud father is Texas balloonist Sam Edwards; her son Gordie is a student pilot. She has flown in almost all US states and in Mexico, Japan, France, Germany, Spain, Portugal, Austria, the Czech Republic, and Switzerland. Cheri is one of the worlds top female competitive pilots in both hot air and gas ballooning; she won the Women's National Hot-Air Balloon Championships in 2016 and finished third this year (2019). Cheri is the current President of the Balloon Federation of America Board of Directors and is the board liaison to the BFA Gas Division.
Mark Sullivan, the current chair of the World Ballooning Federation, has flown in more distance gas balloon events than any balloonist in history, a combined 42 Gordon Bennett and America's Challenge races. With Cheri White he has won the America's Challenge twice and placed as high as third in the Gordon Bennett. Mark has been a member of the AIBF Board of Directors since 1989 and was President in 1997-98.