America's Challenge Landing Update, Teams 9 and 4 Report Safe Landings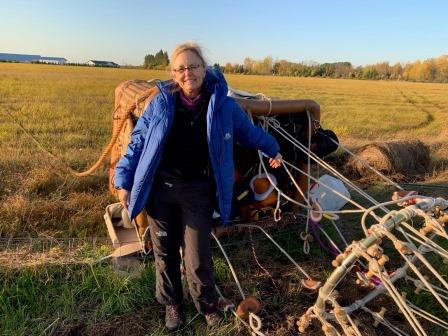 Posted 7:30 AM MDT (1330z)
In the past few minutes, two of the US teams have reported safe landings to the Command Center. Team 9, Cheri White and Mark Sullivan, landed near Hossmann, MN, west of Duluth. Cheri sent us the photo above from their landing site. A little bit further west, Team 4, Noah Forden and Bert Padelt, landed just northeast of Nevis, MN.
Both teams reported ground winds in the area are quite brisk and that they had ripout landings (a term for deflating the balloon as it contacts or nears the ground). You can keep track of the developments right here on the America's Challenge website, or by downloading the YB Races tracking app (free) on your favorite mobile device and subscribing to Albuquerque International Balloon Fiesta (also free).
Use this back button to return to the full list. If you want to preserve your filtered list, use your browser's back button and resubmit the form.