2020 Albuquerque International Balloon Fiesta Celebrates 49th Event
January 3, 2020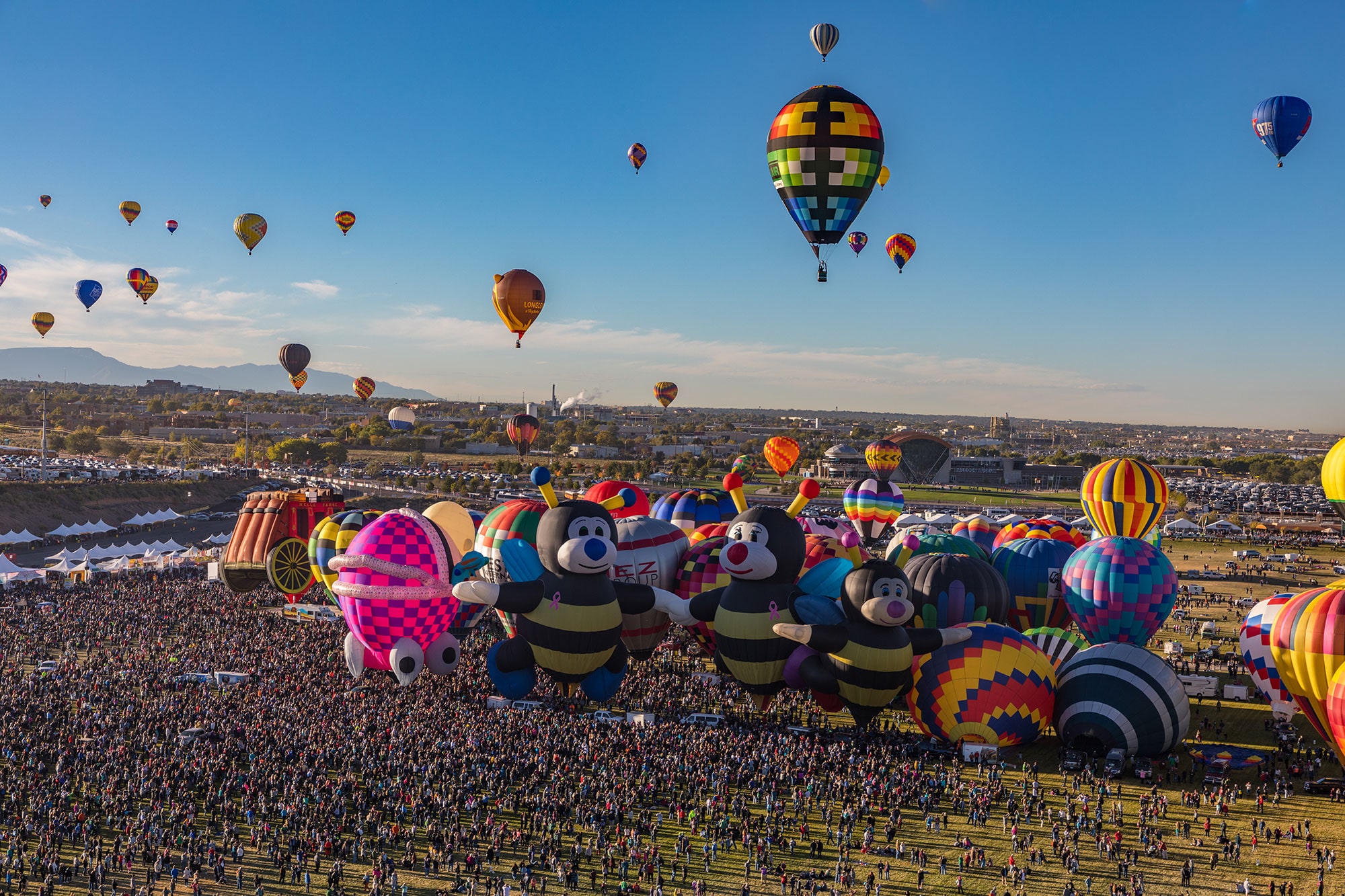 Albuquerque, NM -The Albuquerque International Balloon Fiesta® will launch from Balloon Fiesta Park, October 3-11, 2020. The 49th annual event, themed "Time Flies," will feature more than 550 hot air balloons, of which about one hundred are anticipated to be special shape balloons. Pilots from all over the world have been invited to fly in the popular international event.
The Balloon Fiesta's five signature morning mass ascensions launch both weekends (October 3-4, 10-11) and mid-week (October 7). Other favorite events include the Balloon Glows, Special Shape Rodeo, Double Launches and Fireworks Shows. A complete schedule for the nine-day event can be found here.
The first day of flying is scheduled for Saturday, October 3. The Dawn Patrol Show, launching in the dark, will be followed by a launch of more than 550 hot air balloons. Reaching for the skies, balloon pilots will launch in two waves in search of the famous Albuquerque Box (a wind pattern unique to Balloon Fiesta Park providing pilots the chance to take off and land from the same location).
The Balloon Fiesta flying competition will begin on Monday, October 5 and will continue throughout the week. On Wednesday, October 7, the Flight of the Nations will get the mid-week mass ascension started, showcasing all countries represented at Balloon Fiesta. In addition to flying events, Thursday and Friday will feature special shape balloons launching each morning and glows in the evening. In all, the event has five balloon glows scheduled in 2020.
Guests can get a head start on planning their trip to the 2020 Balloon Fiesta. The following tickets will be available beginning April 3, 2020 on Balloon Fiesta's website.
General Admission: Tickets will be available for purchase online, prior to the event. https://balloonfiesta.com/Purchase-Tickets
Gondola Club:Guests who want a private seat, complete with wonderful food and an amazing view can purchase Gondola Club tickets. https://balloonfiesta.com/Gondola-Club
Chasers' Club:Guests who want to upgrade their Balloon Fiesta experience with access to traditional New Mexican food and a private outdoor patio, can purchase Chasers' Club tickets:https://balloonfiesta.com/Chasers-Club.
Glamping:Guests who are interested in lodging in an exclusive location, walking distance to the launch field can reserve their Glamping spot: https://balloonfiesta.com/Glamping
Concierge Program: Guests who want the ultimate VIP experience and would like to arrange for a personal concierge and tour can reserve their tour: https://balloonfiesta.com/Concierge-Program
About the Albuquerque International Balloon Fiesta
The Albuquerque International Balloon Fiesta is an annual festival of hot air balloons that takes place every October in Albuquerque, New Mexico, USA. It is the largest gathering of balloons and balloonists in the world. For details on events, schedule, entertainment and photographs visit our website www.balloonfiesta.comand follow us on Twitter @BalloonFiesta and Facebook.
###