Pilots Gather for Monday Briefing
October 3, 2022
The America's Challenge teams will shortly begin filing into the briefing room at the Albuquerque International Balloon Fiesta headquarters near Balloon Fiesta Park for the 2 PM MDT (2000 UTC) race weather update and briefing. We'll soon learn the latest on the prospects for a launch in the next 60 hours.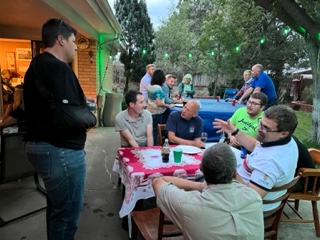 Meanwhile, the teams have spent the last day resting, reviewing the latest data with their meteorologists and ground support teams, and taking in the sights of Albuquerque. Last night, most of the pilots and team members, friends, and family gathered at Peter Cuneo and Barbara Fricke's Albuquerque home for the annual lasagna party For an evening every year, Barbara and Peter's backyard becomes a fascinating crossroads of international gas ballooning, as some of the greatest minds in the sport unwind and share knowledge and stories. We spotted several America's Challenge alumnae who are not flying in the race this year, among them Leo Burman and Danielle Francoeur of Canada, and American gas balloon builder and America's Challenge champion Bert Padelt.
We'll update you on prospects for the launch as soon as we can after the briefing. Once the race starts, you can follow the balloons' positions and more via the YB tracking app on the Balloon Fiesta website, www.balloonfiesta.com/americaschallenge or by downloading the free app to your favorite mobile device and subscribing to the 2022 America's Challenge (also free).